Reading at Naphill and Walters Ash School
Reading Statement
Intent
The ability to read is the mainstay of life-long learning and fundamental for success.  The teaching of high quality reading is a core intention for all staff at Naphill and Walters Ash School.  It is our intent that children develop as fluent, confident and independent readers through exposure to a wide range of quality texts that reflect our local community: military families, multi-ethnic cultures and diverse backgrounds.  Guided reading and high quality book talk develop and extend children's vocabulary.  It is our intent that children leave our school as enthusiastic and reflective readers who have a love of reading for pleasure.
Implementation
The National Curriculum objectives for reading are reflected in long term and medium term planning.  In all plans, carefully considered activities are well matched to the range of ability.  Books are chosen to explore high quality vocabulary; to frequently match the wider curriculum; to demonstrate excellent examples of book type; expose children to a diverse and current community of authors or to illustrate a particular language use.
Reading planning is matched to the National Curriculum.  Through the school, a range of teaching methods are used including one to one reading, whole class shared reading and small group guided reading.  All offer effective approaches to teaching specific reading skills and are crucial components of the reading policy.
Through daily, systematic and consistent high quality phonics teaching, children learn to segment words to support their spelling ability and blend sounds to read words. To allow our children to develop a strong phonic awareness and effective blending and decoding skills, we have chosen to use a synthetic phonics programme called Read, Write, Inc. produced by Ruth Miskin. Further information is in our Phonics Policy. Through the consistent, systematic and daily teaching of the Read Write Inc Phonics programme, our children become fluent, confident readers by the end of Key Stage One.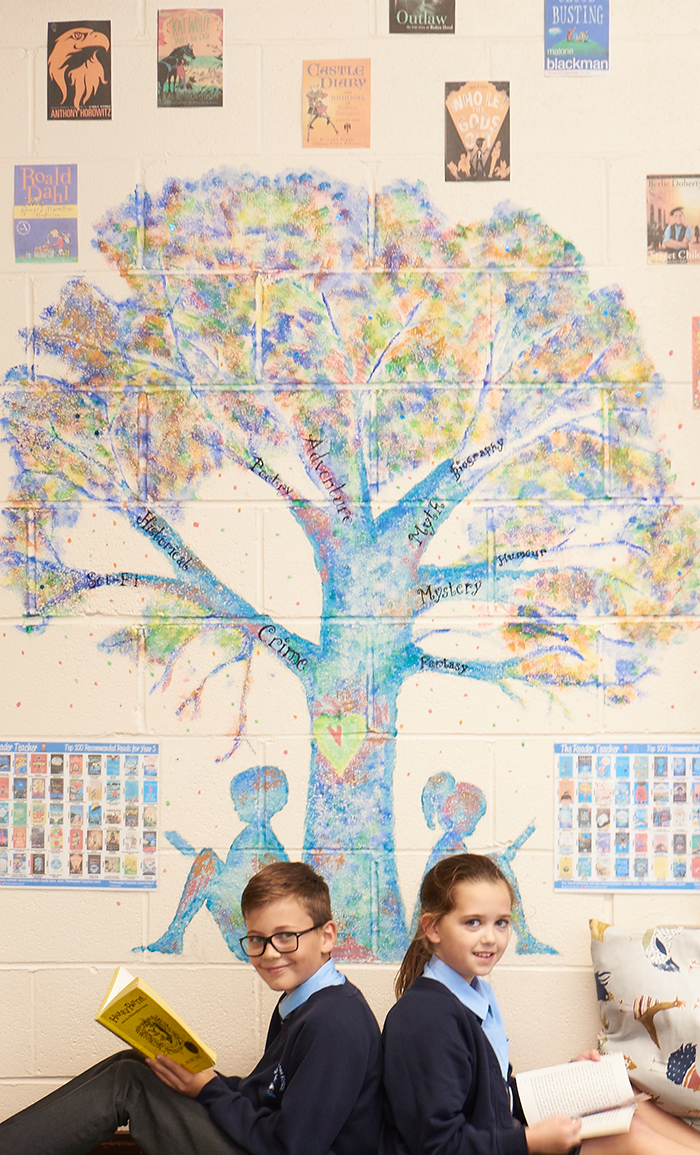 In Key Stage 2, we ensure that blocks of half an hour, discrete reading teaching, happens across the week. This ensures that reading is taught explicitly and regularly, and that vulnerable groups can be highlighted and supported appropriately to further ensure progression, and that specific year group skills are secure. Lessons are planned based upon appropriate high-quality texts and allow children to learn comprehension skills as well as independence, a love of wider reading and exposure to rich vocabulary, which is absolute key in all sessions for all learners.
All children are supported to achieve at Naphill and Walters Ash including those children who have fallen behind their peers.  This comprises making reasonable adjustments to enable all pupils to access to the reading curriculum.  The consistent, structured phonics approach, used in school, helps children to attain a good standard of literacy.
Reading Comprehension interventions in Year 2 to 4, are supported by the use of Project X Code published by Oxford University Press.  The scheme is research-based and written with motivation, inclusion and diversity at its core.  The scheme progresses from 100% phonetically decodable books, to those that are 80% decodable.  Comprehension strategies are revisited throughout.  Children are grouped according to their book banded abilities and receive reading interventions from experienced Teaching Assistants.
The scheme progression is well matched to the children's developing phonics knowledge but also includes high and medium frequency words, and, further up the scheme, tier two vocabulary.  The scheme provides suitable challenge as levels increase.
Teaching and learning in school supports pupils through the explicit teaching of vocabulary and the overlearning of key skills.
Impact
Formative assessment takes place throughout all lessons and is recorded informally or on a teacher's distance marking sheets.  Children complete reading journals which chronical their daily reading and enable parents to feel part of the process.  Informal 'book talk' sessions also provide a wealth of information on a child's reading ability.  Written responses to comprehension activities also help inform teaching and learning.
As children progress through the reading scheme, they are benchmarked using PM Benchmarking.  This gives an invaluable record of the ability to read fluently, accurately and for comprehension.  Benchmarking occurs termly across Key Stage 1 and into year 3.  As children move through Key Stage 2, they are benchmarked twice yearly or when necessary.
Formal summative assessment is conducted at the end of the Autumn and Summer terms.  This may be in the form of end of Key Stage statutory reading tests or NFER comprehension tests.
The English team and Senior leaders monitor reading plans and English plans each term, scrutinise books and discuss pupil progress in summative assessments regularly.