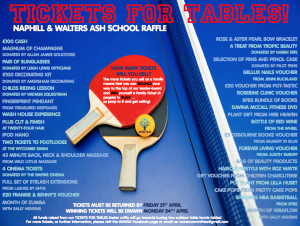 TICKETS FOR TABLES – Easter Raffle!
Today the kids will be bringing home this years raffle tickets – we've over 30 amazing prizes to be won PLUS the family who sells the most tickets will win a family pass for RUSH!
To help you along we've included three books of tickets this year* if you need anymore over the Easter holidays please message WANSA via our Facebook page – https://www.facebook.com/groups/WANSANEWSANDUPDATES/ –  or on email – wansacommittee@gmail.com and we'll get them to you!
Each ticket is £1 and all monies raised will be going towards funding two outdoor table tennis tables for the school!
Please ensure all your ticket stubs (filled in!), unsold tickets and money is returned by Friday 21st April.
Winning tickets will be drawn on Monday 24th April – we will announce the winners via ParentMail and Facebook.
Good luck!
*there is no obligation to buy or sell and any used tickets can, and should be, returned to school by Friday 21st April.